Nexus International Malaysia is extremely proud to be ranked in the top 2% of IB Global Schools in the world and in the top 50 in Asia by Education Advisers Ltd (see IB-Schools.com), cementing its position as best IBDP school in Malaysia. The International Baccalaureate Diploma Program (IBDP) is the fastest growing program in the world with more than 5,400 schools having adopted it to date.
Founded in 2008, Nexus has campuses in Malaysia and Singapore for children aged 3-18 and is a member of the renowned Taylor's Education Group. The Malaysia campus offers the IB Diploma Program as a pre-university qualification for its senior learners, the International Primary Program in Primary and the IGCSE Program in Secondary as well as Boarding for 10-18 year olds.
Nexus International School and its boarding school is located in an open and green campus in Putrajaya
Flexible onboarding options at Nexus
Parents considering boarding school abroad and those who want their child to experience boarding school while staying close to home can opt for a modern boarding school experience at Nexus.
The school offers a full boarding experience for those who wish, and the option of weekday boarding, for those who want their children to come home on weekends to spend time with their family. Occasional internship is also available for Nexus learners who might need a few days or weeks of internship when their parents are busy at work or away from home. Regardless of boarding school choice, Nexus boarding school provides a warm and supportive environment with a diverse program of activities, pastoral care, and academic support. High-end residential amenities are offered to boarders, including accommodation, food, laundry, kitchenette, recreation areas, 24-hour security, library, sports and music facilities.
The school's location in Putrajaya also makes it ideal for a wide range of outdoor activities on weekdays and weekends, taking full advantage of its green surroundings, wide open spaces and access to parks. . And yet, Nexus boarding remains quite close to important Klang Valley areas such as Bangsar, Mount Kiara, Petaling Jaya and KL city center.

Nexus offers premium residential amenities for full board and flexible weekday and occasional board options
IB Diploma Program and internship (post-SPM/IGCSE)
Nexus onboarding is ideal for students in their exam year, offering a good routine, a balanced lifestyle, peer-to-peer support and mentorship from expert teachers after school hours (if needed).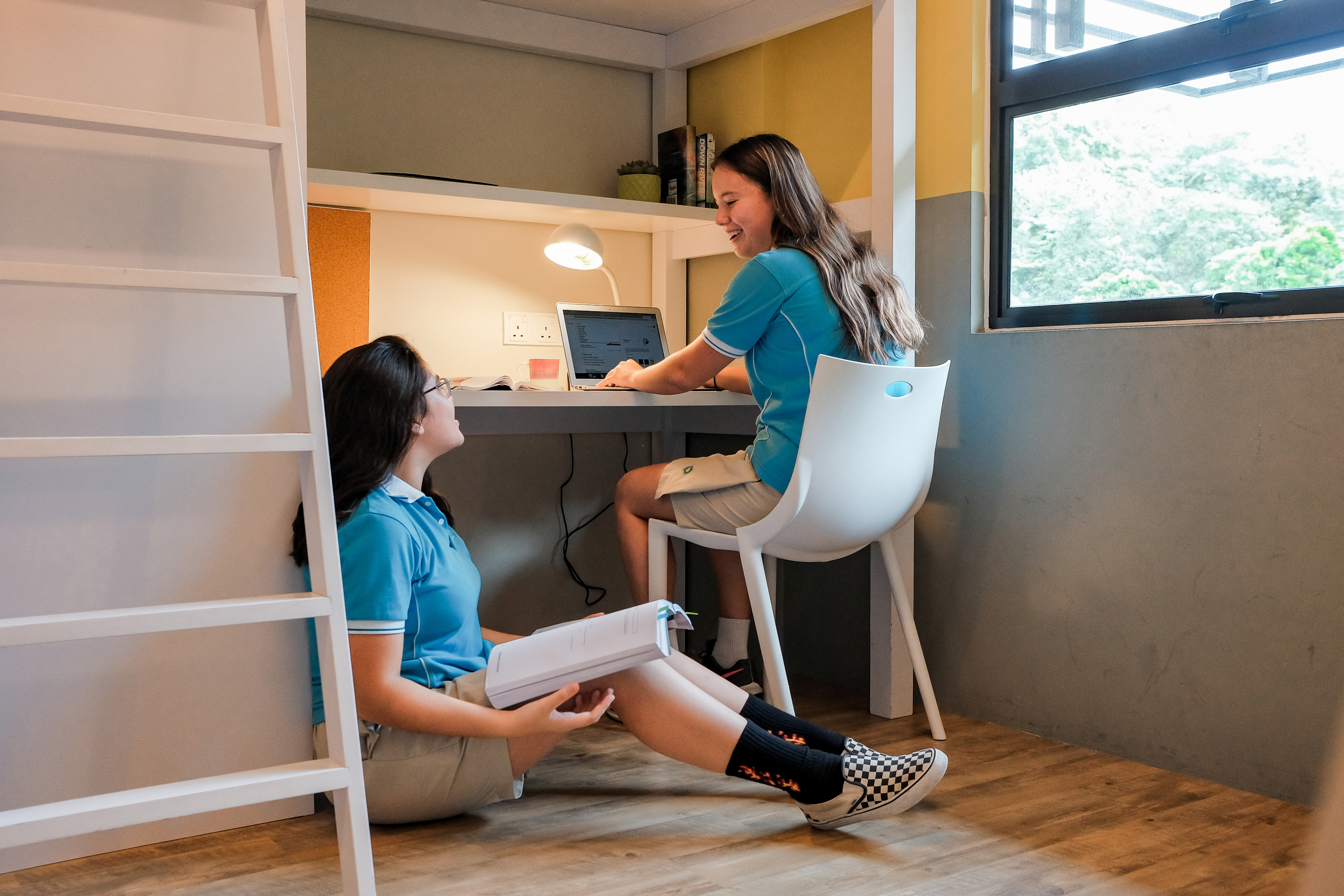 Nexus boarding is ideal for exam year students, offering a good routine, a balanced lifestyle and peer support
Each year, the Nexus boarding school remains a popular option among our IBDP learners (Year 12 and 13) to excel in their studies. Many of the top IBDP students at Nexus are boarders, indicating a strong academic edge and balanced boarding lifestyle.
For 3 consecutive years, the Nexus boarding school has produced four learners who achieved 45 points (perfect score) on their IBDP exam. A perfect score on IBDP exams is an extraordinary achievement with a very low percentage of learners (typically less than 1% per year) achieving this feat worldwide.
Caryn Chan, who is one of the Perfect Scorers in 2021, recognizes that the secret to her success is the supportive, motivating and supportive school and boarding environment at Nexus. "Strong camaraderie between peers and teachers has been a mainstay of her IB experience at Nexus. There is always someone I can reach out to at the boarding house or just knocking on someone's door , and it's reassuring to know that you are not alone," she said.Caryn Chan is currently studying IT at Singapore Management University under the Lee Kong Chian Scholarship.
For a limited time only – RM50,000 off IBDP and boarding fees
To learn more about the programs offered at Nexus and Boarding School, sign up for their Virtual Program Discussions with their leadership team Monday through Friday, May 23-27, at 4 p.m. Pre-booked sessions for visits to the school and VIP boarding school on campus are also available from 9:00 a.m. to 12:00 p.m. during this week.
Enjoy RM 50K on tuition and boarding fees for Years 12 and 13 (2-year course) and up to 100% off tuition fees when you apply for their August 2022 admission /23. Take advantage of this limited time offer and join the best IB school in Malaysia!
For more information, log on to www.nexus.edu.my or contact their admissions team at [email protected] / 03-8889 3868 or Whatsapp +6017 606 6255 for more information.