When a mother new to the community wanted to help promote her son's school and support local literacy, she only intended to have fun and meet other parents. What she didn't expect was to win first place in a fashion contest that raised more than $29,000 for the nonprofit Madison Reading Project.
Patty Arifin moved to Verona from Madison in 2020. Her husband works at Epic and Patty planned to enroll her son at Verona Area International School, so moving to Hometown USA made sense for her family.
While her husband's job allows her to be a stay-at-home mom and housewife, she has also taken on a community relations role within the school.
When an invitation to participate in a Madison Reading Project fundraiser popped up "randomly" on her Facebook news feed, it piqued her interest.
She's been a fan of the project for years, and as a Madison resident, she would see the organization's trademark van at events with volunteers handing out books.
She decided she wanted to help raise money and support the literacy-focused nonprofit by participating in this year's Read(y) to Wear fashion show.
The event, held at the Majestic Theater in Madison on May 12, was a fundraiser to support Madison Reading Project staff and help them purchase books and supplies for their services. Ticket sales and a raffle raised funds for the organization's programs.
The event returned this year after a two-year hiatus due to the COVID-19 pandemic.
The paper-inspired fashion show brought together reading and fashion enthusiasts to meet the literacy needs of Madison-area children, families and educators.
The models took a spin on the catwalk and the designs were voted on by a panel of local judges.
Honoring this year's theme "Rock, Paper, Scissors", teams made up of local Girl Scouts, lawyers, artists, photographers, bankers and more designed, assembled and presented their creations accompanied by energetic melodies under the Majestic Theater stage track spotlights.
Out of a harvest of 12 teams, the group from Verona took first place.
The teams competed for the titles of best "ready to wear design" and best "use of paper". For the "read(y) to wear design," the crowd picked their three favorite designs and the judges then picked an overall winner based on creativity, overall design, and stage presentation. The "use of paper" category awarded the design "the most innovative or creative use of paper".
The theme for this year's exhibition was 'Rock, Paper, Scissors' and all teams were required to submit ideas incorporating the theme. Drawings had to be constructed from at least 90% paper.
Arifin's design ended up being crowned the overall winner in the "read(y) to wear design" category, making it one of the three favorites of event attendees and the ultimate favorite of the judges.
She was somewhat shocked, but overjoyed, by her victory. She had never entered the competition before, and had never really designed and brought a garment to life before.
She said she had only created one outfit before, a Mickey Mouse costume for her son.
But since she was little she has loved arts, crafts and design and said she always loved design but didn't realize she could study fashion in college, she therefore never pursued his interest.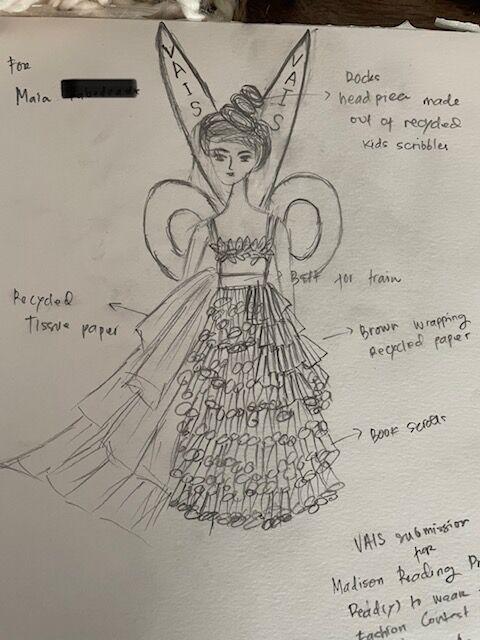 As a new mom from Verona Area International School looking to connect with other families, getting other VAIS kids involved was important to her.
After hearing about the contest, she asked other mothers for help, but the last-minute request meant a few "noes" due to children with COVID-19 or student athletes with matches. soccer. She finally found two other moms who could help her achieve her vision.
"We made it work at the last minute with what we had," she said. "Next year we will plan better and think about ideas for an interesting project."
Her dress design went from sketch to life through donated books, brown paper from Amazon shipments and paper shopping bags, a tank top and even her own wedding dress became the basis for construction of a recycled outfit.
"There was very little new material, we used what we had," Arifin said.
The total time from when Arifin learned about the contest on Facebook to when her outfit was named the overall winner for 2022 was only about a month, she said. But the actual construction of the dress took place over a single weekend.
VAIS's other parents, April Rabedeaux and Joanne Huang, joined Arifin in this sewing business, along with their children.
Over the course of a Saturday and Sunday, the two mums helped Arifin roll the pages removed from four books into rolls, which were then sewn one by one to the wedding dress.
A single thread united the dozens of scrolls like a garland. They tied the rolls on layers of tools to give the dress better volume.
"It held up pretty well, we manually sewed the scrollwork to attach it to the dress," Arifin said.
They spray-painted three oblong crinkles of paper with rock-like paint, which they then attached to a headband like a pile of rocks or a cairn.
A pair of scissors cut out of cardboard was supposed to look like fairy wings, and "GO" was written on them in phosphorescent paint.
The weekend project "was a lot of fun," Arifin said.
After sketching the design for a dress, she said her goal was "to inspire these kids to make beautiful art with materials around us," Arifin said.
"This random idea came to mind, 'hey, what materials do we already have around us, don't create new waste for the Earth," she said.
The group called their team the "Dragonistas", a portmanteau of "dragon" (representative of Chinese culture) and "fashionista".
Maia Rabedeaux, a fourth-grade student, modeled the dress on stage.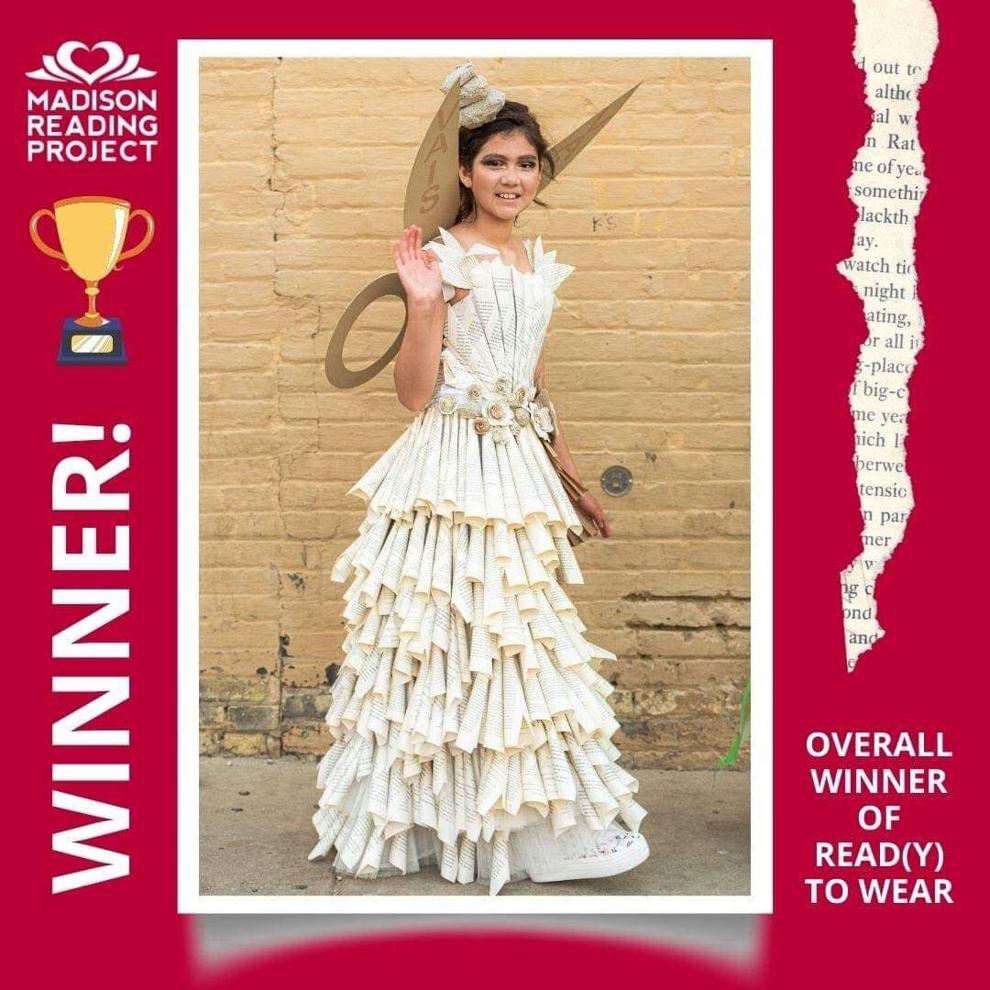 When Rabedeaux took the stage, a song by the group Imagine Dragons played in the blink of an eye in the name of their team.
In reference to both the Chinese language immersion school they represented on stage, as well as the theme of this year's competition, Maia was joined on stage by two VAIS kindergarten students who performed quick play games Rock, Paper, Scissors in English and Mandarin Versions.
Next year, Arifin wants to involve children more from the start, having them help out during the brainstorming and design stages, participating more off-stage.
There was no prize beyond the glory of being chosen and the honor of knowing that their participation helped support a local cause.
"It wasn't about winning, it was about the process," Arifin said. "The pleasure of winning is the bonus. And participation also boosted children's confidence. They were thrilled to be at the Majestic Theater among the audience and the judges, it inspired them, they said, "we better be good at it, this is serious."
"I wanted to inspire them to get involved in their community, to do good and to spread the name of our school. Many goals have been achieved," she added.
She now plans to display the dress in the library of the international school in the Verona region.