Part of Iowa Governor Kim Reynolds' Future Ready Iowa initiative includes growing a skilled workforce in the state by connecting adults – and high school students – to education and life. training needed for careers.
To achieve this goal, high schools in Iowa are expanding student access to technical education over the next several years.
Iowa Falls-Alden High School principal Kyle Hutchinson said the school district has laid the groundwork for building business relationships between IFAHS students and local businesses. The hope was to create internships, pre-learning and/or apprenticeships.
Then the coronavirus pandemic arrived and those plans were put on hold.
Hutchinson said the talks have started to heat up again, as schools scramble to meet the needs of students who are more likely to enter the skilled workforce after high school rather than pursue four-year college education.
"The Future Ready Iowa initiative is pushing high schools across Iowa to seek workplace learning opportunities," Hutchinson said. "Mark Buschkamp (Executive Director of the Iowa Falls Area Economic Development Corporation) was great in connecting us with people from Workforce Development at the state and the Department of Education. connections there and put us in talks with people to work on an internship/registered apprenticeship/pre-apprenticeship program here in high school.The goal is to partner with those companies.
Prior to COVID, Brandon Uhlenberg, a business professor at IFAHS, had reached out to Buschkamp to gauge interest from the corporate sector. By 2024, Hutchinson said all high schools in Iowa must offer some type of work-based learning program, so IFAHS's foray into the subject only happens a few years later. early.
"Basically, we could take students out of high school and steer them into certain career areas that they might be interested in," Hutchinson said. "Our hope is that we will begin to have partnerships with businesses in the city that will allow us to welcome students here who may not be interested in a four-year university degree, but who have some interest in skilled trades. They would still get high school credits, but also the opportunity to explore those career areas," Hutchinson said.
Although there are different guidelines for an internship, pre-apprenticeship or registered apprenticeship, the latter would allow students to earn money for the work they provide to companies. In all scenarios, IFAHS students would be required to meet all graduation requirements to graduate.
"I'm not sure we would start there (recorded learning), but the idea remains to get kids out into the community and work," Hutchinson said. "They would still have to meet the graduation requirements set by the Department of Education. There are 32 courses required through our school board and department of education. But there are the 18 options. How can we use them to make them work in the field? »
Buschkamp said Hardin County — like most areas — is experiencing an employee shortage. He added that businesses will need to get creative during and after the pandemic.
"If you look at the demographics of it, it's not pretty and something that's not going to go away. One of the big things about the pandemic is that so many baby boomers have decided to retire. The Labor is a critical issue for businesses and the ability to find people," Buschkamp said.
The IFDC executive director said that as employers try to find solutions to labor shortages, he has noticed that wage increases and other incentives are on the rise. Recruitment will also be a necessary tool.
IFDC helped raise awareness of jobs by creating a Manufacturing Day two years ago. Last fall, more than a dozen IFAHS students had the opportunity to visit four manufacturing companies.
"I really see this as a win-win for both parties," Buschkamp said. "It allows high school students to try something before committing to college. Whenever you have a job situation where there is high demand, you see fewer people going to college because they see the opportunities. If you look at the statistics, almost a third or more of students who attend four-year college do not graduate. Then they find themselves without a degree with a lot of debt and no safe path forward.
According to data from Iowa Falls and Alden Superintendent Tony Neumann, the percentage of IFAHS graduates who intend to go to college has changed since 2012. Over 87% of the IFAHS class of 2013 indicated that they planned to go to college, while only 69.9% of the class of 2015 intended to go to college. The IFAHS class of 2020 was at 73.8%. Data for the Class of 2020 is skewed as more than 7% did not signal their intentions after graduation.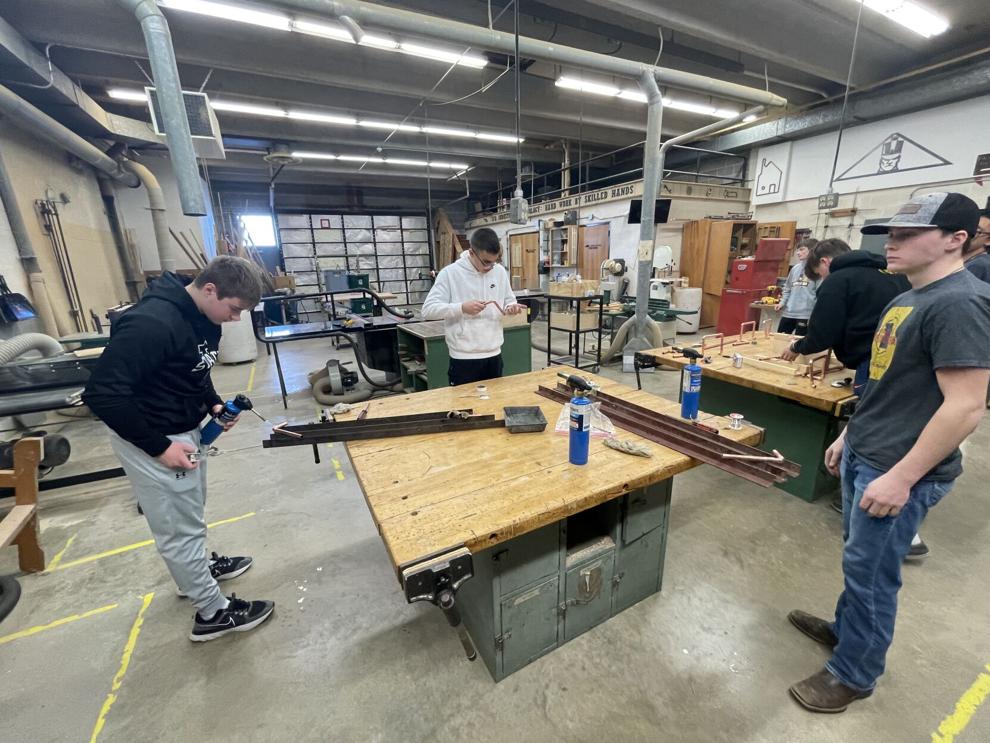 Kevin Seidl, an industrial technology instructor at IFAHS, offers a carpentry course that teaches students the basics of plumbing and electrical. He said there would be no downside to exposing students to real-life experiences in the job market. During the winter months, the class built garages and poured concrete. There are also two-week units on plumbing and electrical.
"I think offering a program like an internship or a pre-apprenticeship would really take what we do in the classroom to the next level. We teach them the basics of plumbing and electrical, but if they can get out there and work side-by-side with a professional, they start to see how it's done in a real environment," Seidl said. "I like to use my carpentry course as a kind of exploratory course for children. I know that most of them may not fit into this job field, but this exposes them to it and makes some of them wonder if they should pursue this type of career.
IFAHS senior Carter Arends has worked for Zoske Electric since the fall. While he hadn't originally planned to go to college, he has since changed his mind.
"I didn't want to go (to college), but now that I've been exposed to some jobs, I think it might make sense to go to school just to learn a bit more about the business side. ", Arends mentioned. "I think the high school curriculum they're trying to develop is pretty smart. There's a lot of kids who don't want to sit in a classroom.
Hutchinson said his view of the potential program would be holistic in terms of opportunities for each student. He said the Iowa Falls School District has looked at other school districts offering a similar program. These include Boone and Nevada.
"I'd like to get to the point where we take freshmen to high school and show them that if they know they want to go to four-year school, here's your path. If you know you're a person trades, here are some great jobs for you," said Hutchinson.
Buschkamp said it's encouraging to see schools like IFAHS starting to get proactive, as he said the labor shortage is unlikely to go away anytime soon.
"The reality is that we are not going back to what we were doing before. Baby boomers have retired and this is the new normal," Buschkamp said. "Companies will need to be inventive, so if they can partner with schools in their communities, it could create opportunities for both the company and the students."